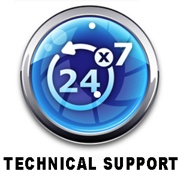 Voice over Internet Protocol is a game-changing technology for the telecom industry.  Cost-effective VoIP enables virtually anyone to offer competitively priced services under their own brand.  But any technology (even VoIP) requires some degree of configuration.
When you build your VoIP business, you hopefully can rest assured that you will get the Technical Support you need, when you need it.  Unlike other technologies, your telecom users expect their service to be up and running, available any time, day or night.
When choosing your Switching and Billing solution for your VoIP business, there are some important questions:
Does my Softswitch provider offer 24/7 technical support?
What about holidays?
Do they just recommend quick fixes by phone, or do they back it up in writing?
Is there online documentation available?
Does my Softswitch provider offer training?
Are there self-care tools available?  For trouble-shooting in real time?
Request Info »
Telinta provides 24/7 Technical Support, around the clock, every day of the year.  When you become a Telinta customer, you have an award-winning team of Engineers, Software Developers, and other VoIP experts on your side whenever you need.  We understand that the services you provide are mission-critical to your customers.
Telinta uses a sophisticated ticketing system to manage Support inquiries, day or night, for our customers around the world and across time zones.  This helps us (and you) to carefully track each inquiry, each step taken, and each resolution.  Written details can easily be referred to any time in the future by both your team and ours.
Telinta provides comprehensive training to help get you started.  One of our Senior Engineers will provide three 2-hour sessions via desktop sharing to guide you through the steps you need to build your business on our platform, click by click.  Branding your services, setting your prices, routing calls to and from your carriers, adding resellers, and more…  Need more help?  Just let us know.   If you have a specific need in the future, we provide the option to schedule an additional desktop sharing session to help you.
Our online documentation and unique KnowledgeBase puts important information at your fingertips, any time you need.
Whether you are providing business services such as Hosted PBX and SIP Trunking, or calling from a brandable mobile softphone app, or any one of Telinta's other white label solutions – our Technical Support is ready to help you.  24x7x365.
With Telinta, you have the peace of mind you deserve.
Want to learn more?  Contact us today.