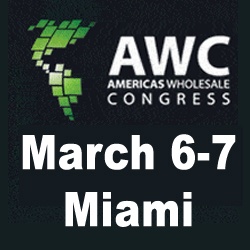 Telinta has been invited to participate in the eighth annual Americas Wholesale Congress (AWC), a prestigious international event for VoIP service providers to be held in Miami, Florida on March 6-7, 2019.
AWC brings together hundreds of VoIP professionals from across the Americas, representing companies which serve Latin America and the Caribbean.  This well-known event includes Wholesale VoIP service providers, Tier 1, 2 and 3 carriers, mobile operators, SMS providers, ISPs, as well as technology partners from the voice, data, satellite, sub-sea and fixed-line markets.
"Using our hosted white label switching and billing solutions for VoIP service providers, Telinta customers have built profitable VoIP businesses in Latin America, the Caribbean and around the globe," said Alex Ferdman, CEO of Telinta.  "Our cloud-based TeliCoreTM platform is a carrier-grade Class 4 and Class 5 softswitch, enabling VoIP service providers to build a profitable business anywhere in the world."
As part of the event, Telinta will speak to VoIP providers about important issues related to running their own privately-branded VoIP businesses.  Discussion topics will include scalability, routing, rating, real-time traffic analysis and fraud prevention, billing for bilateral traffic agreements, doing business in any currency and language needed, and other key topics.
"We understand the unique needs of our customers who serve Latin America," added Ferdman.  "VoIP providers often come to Telinta to learn how our cloud-based solutions can help them track their profits per minute, ALOC, ASR, and other important metrics."
TeliCore integrates Telinta's cutting-edge VoIP solutions with world-class switching and billing.  This award-winning softswitch platform supports real-time CDRs, flexible routing, virtually unlimited concurrent calls, multiple currencies and languages, load balancing, optional Voice VPN, a full suite of cloud-based fraud prevention tools, and more.  In addition to comprehensive reporting capabilities, Telinta offers a unique real-time traffic analysis tool as part of its standard offer.  CallMonTM enables VoIP Wholesale providers keep a close watch on how their business is performing in real-time.
The company's unique white label Wholesale DID solution includes APIs to many leading DID providers providing phone numbers in Latin America and worldwide.
AWC attendees who sign up with Telinta during the event will receive one month free, up to a $400 credit on their first monthly invoice.  Live demonstrations of Telinta's TeliCore platform will be available at AWC in both English and Spanish.
About Telinta:
Founded in 2002, Telinta, Inc. offers secure and reliable cloud-based Switching and Billing solutions for VoIP service providers around the globe. Telinta's full portfolio of white label solutions is highly customizable for VoIP service providers and their resellers. Telinta's carrier-grade solutions include Wholesale VoIP, Hosted PBX, Audio-Conferencing, Business and Residential VoIP, Calling Card, Mobile, and other VoIP services.  Please visit us at www.telinta.com for more information.
Media Contact:
Anthony Stiso
Vice President of Marketing and Sales
+1 305.993.1199
anthony@telinta.com