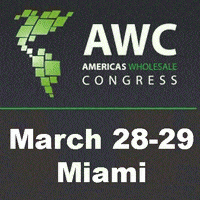 Telinta has been invited to participate in the seventh annual Americas Wholesale Congress (AWC), a prestigious international telecom event to be held on March 28-29, 2018 in Miami, Florida.
AWC brings together hundreds of VoIP professionals from across Latin America and the Caribbean, representing service providers with customers throughout the region.  AWC brings together Wholesale VoIP service providers, Tier 1, 2 and 3 carriers, mobile operators, SMS providers, ISPs, as well as other technology partners.
"Our cloud-based white label switching and billing solutions are very attractive to VoIP service providers covering high-growth markets like Latin America and the Caribbean, as well as other parts of the world," said Alex Ferdman, CEO of Telinta.  "Our unique TeliCoreTM platform is a carrier-grade Class 4 and Class 5 softswitch, designed to offer VoIP Wholesale providers secure and reliable switching, billing and customer management."
As part of the event, Telinta will speak to VoIP Wholesale providers about important challenges in running their privately-branded Wholesale businesses.  Discussion topics will include:
Cloud-based solutions without infrastructure deployment
Scalability, reliability and redundancy
Routing, rating, and reporting
Real-time traffic analysis for ALOC, ASR, profits and other key metrics
Fraud prevention
Billing for bilateral traffic agreements
Other important topics that are vital in building a successful VoIP Wholesale business.
AWC attendees can schedule a demonstration of Telinta's platform in both Spanish and English.
"VoIP Wholesale providers often come to Telinta to learn more about how our white label solutions can help them to both grow an existing business or launch a new one using our TeliCore softswitch and billing platform," added Ferdman.
TeliCore integrates Telinta's cutting-edge VoIP solutions with world-class switching and billing, designed to meet the special needs of VoIP Wholesale providers.  This award-winning softswitch platform supports real-time CDRs, flexible routing, virtually unlimited concurrent calls, multiple currencies and languages, load balancing, optional Voice VPN, a full suite of cloud-based TeliShieldTM fraud prevention tools, and more.  In addition to comprehensive reporting capabilities, Telinta offers a unique real-time traffic analysis tool as part of its standard offer.  CallMonTM enables VoIP Wholesale providers keep a close watch on how their business is performing in real-time.
AWC attendees who sign up with Telinta during the event will receive one month free, up to a $400 credit on their first monthly invoice.
Contact us today to learn how Telinta can help your VoIP business.