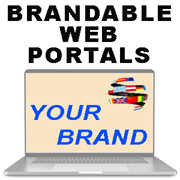 Many ITSPs and VoIP service providers ask the question "How can I offer Brandable Web Portals to my Customers?"
Cutting-edge VoIP services today can be offered with online user interfaces, enabling your customers to perform certain self-service functions.  If you customers can take care of themselves, it means you don't have to and this frees you up to attend to other areas of building your business.
What can Brandable Self-Service Web Portals enable your customers to do?
Online Sign-Up
Select  subscription plans and bundles at a variety of prices
Choose your own phone number / toll-free number
Set up Cloud-based PBX extensions and Auto-Attendants
Route (and re-route!) calls as needed
Online payments via credit card and PayPal, in-person cash payments
Replenish a prepaid balance
Review Call Detail Records (CDRs) in real-time
Host a Conference Call
Use softphone apps:  Mobile, Desktop, and Web-based (WebRTC)
Retail purchases for Mobile Top-Up, Calling Cards, MVNO, etc.
…and more.
Request Info »
Telinta offers a wide variety of Brandable Web-based Portals to help you and your Resellers run a profitable VoIP business.  Our online sign-up capabilities remove geographic constraints, enabling you to sell VoIP services across town, across the country, and around the world.
Our self-care portals help your end users make specific configurations and choices for how they use your services.  This control and flexibility helps you retain customers for the long-term whether they work from home, the office, or on the go.
Our unique Virtual Office solution enables users to customize their own VoIP solution "in the Cloud" via a series of brandable self-service portals.  Offer VoIP services in any language and currency you need, as many as you need.  Telinta enables you to do all this — with your own brand and your own prices!
Want to learn more? Contact us today.