Telinta's clients have begun beta testing Telinta's new PortaSwitch Call Monitor plug-in that allows live monitoring of vital switch partition call statistics such as customer and vendor ASR, ALOC, Cost, Revenue, and more. "We developed this software, based on feedback from our customers, to cover the aspects of billing activities which cannot be monitored in real time with the standard PortaSwitch set of utilities," said Alex Ferdman, CEO.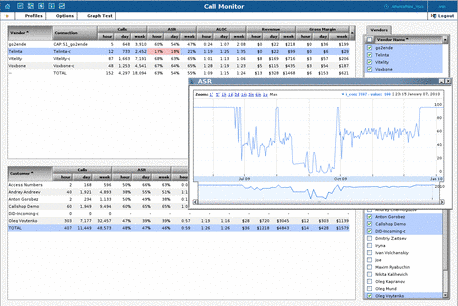 Telinta's Call Monitor is integrated into the standard PortaSwitch billing administrator interface.  Live call monitoring gives PortaSwitch users the ability to view the current quality of their interconnections and to immediately see cost and revenue of each client and vendor.  The tool provides comprehensive graphical representation of the tracked information, showing both up-to-the-minute call statistics and the historical trends.
Call Monitor v2.0 Beta is planned for the second quarter of 2010.