TeliCon, Telinta's full-featured audio conferencing service, is fully integrated into Telinta's hosted PortaSwitch platform. An out-of-the-box solution, TeliCon allows Telinta's customers and their resellers to offer audio conferencing service to end-users.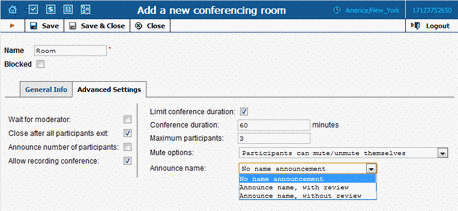 Several new features were recently added to TeliCon.  A web interface now provides the ability to see all active calls, and the capability to assign names to conference participants.  Muting and unmuting of participants can now be done directly from the web interface.
TeliCon is provided as a value-added service to all Telinta customers as part of the standard hosted PortaSwitch offering, without any additional costs.  "We encourage our customers to add TeliCon to their product lines to increase their revenues," said Alex Ferdman, CEO of Telinta, Inc.
TeliCon includes all popular audio conferencing features available in the market today.  TeliCon allows an unlimited number of conference rooms, reservation-less and scheduled audio conferences, as well as moderated and non-moderated conferences, and the ability to download the conference recordings.  Built-in security measures prevent unauthorized use of the conferencing features, optionally locking the conference room after the last participant leaves.  An intuitive web interface enables easy personalization of conference rooms with custom Music on Hold (MOH), participant announcement options, limited conference duration, and maximum number of conference participants.  Other TeliCon features include Muting/Unmuting participants to prevent interference from the background noises, moderator dropping selected participants.
For more information about the TeliCon solution, contact info@telinta.com.