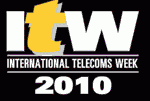 Telinta will exhibit its full suite of switch partition and billing solutions at the International Telecoms Week (ITW) 2010 in Washington DC on May 24 – 26.  ITW, an event for the global wholesale telecommunications community, presents an excellent networking opportunity for over 1,300 companies expected to be in attendance this year.  At ITW, Telinta will publically unveil CallMon and TeliCon – two new solutions for Telinta's hosted PortaSwitch customers. CallMon allows live monitoring of call statistics, and TeliCon provides a full-featured audio conferencing service.
CallMon is a proprietary PortaSwitch plug-in which allows Telinta customers to increase their revenues thanks to real-time comprehensive reporting and statistics of live call traffic.  CallMon was developed based on feedback from Telinta customers to cover the aspects of billing activities which cannot be monitored in real time with the standard PortaSwitch set of utilities.
CallMon allows live monitoring of vital call statistics such as ASR, ALOC, Cost, Revenue, and Profit broken down by customer and vendor.  Live call monitoring gives Telinta's PortaSwitch users the ability to view the current quality of their interconnections and to track down malfunctioning or poor quality vendors or destinations.  Telinta's CallMon is directly integrated into the PortaSwitch billing administrator interface and provides easily customizable comprehensive graphical view of the tracked information, showing both up-to-the-minute call statistics and the historical trends.
TeliCon, Telinta's full-featured audio conferencing service, has been fully integrated into Telinta's hosted PortaSwitch platform.  An out-of-the-box solution, TeliCon allows Telinta's customers and their resellers to offer audio conferencing service to end-users.  TeliCon is provided as a value-added service to all Telinta customers as part of the standard hosted PortaSwitch offering without any additional costs.
TeliCon includes all popular audio conferencing features available in the market today.  TeliCon allows an unlimited number of conference rooms, reservation-less and scheduled audio conferences, as well as moderated and non-moderated conferences, and the ability to download the conference recordings.  Built-in security measures prevent unauthorized use of the conferencing features, optionally locking the conference room after the last participant leaves.  An intuitive web interface enables easy personalization of conference rooms with custom Music on Hold (MOH), participant announcement options, limited conference duration, and maximum number of conference participants.  Other TeliCon features include Muting/Unmuting participants to prevent interference from the background noises, and moderator dropping selected participants.
Telinta representatives will be available at ITW on May 24-26 in booth 901.  ITW 2010 participants are encouraged to attend the CallMon and TeliCon demos, as well as to discover the rest of Telinta's full suite of PortaSwitch solutions.