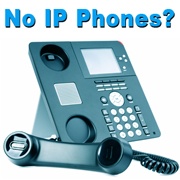 Telinta often hears the question, "How can I offer Hosted PBX without my users needing IP phones or ATAs?"
Most Hosted PBX (also called Cloud PBX) requires IP phones that use the digital protocol offered by Voice over IP.
Analog Telephone Adaptors (ATAs) are devices which convert analog to digital IP (and vice versa) enabling your end users to use an analog end point if they wish.
While IP phones offer significant advantages, they also add to the cost of switching away from an incumbent telecom operator to a VoIP provider.  For customers who prefer to keep their simpler analog phones, this presents a barrier to switching to your VoIP service.
What about mobile phones?  Many end users rely on their mobile device as their main phone line for both business and personal communications.
So how can you offer Hosted PBX to users with analog landlines or mobile phones?
Request Info »
Telinta offers a unique Hosted PBX solution that enables ITSPs and their resellers to offer Hosted PBX to their users, without needing IP phones or ATAs.
Virtual Office is an award-winning white label solution specifically designed to help you provide Hosted PBX to your small and home-based business users.  It is perfect for Remote Work and Hybrid Work needs, as well as for highly-mobile customers on-the-go.
Using the power of Telinta's cloud-based TeliCoreTM platform, ITSPs can provide sophisticated PBX features to their users.  Virtual Office users can customize their own personal VoIP solution by navigating through brandable self-service web portals, selecting the features and capabilities they need.
Virtual Office users can sign-up online, select their own DIDs and Toll-Free numbers, add extensions, set up voicemail, configure an auto-attendant and IVR, set up call routing, conference calls, and more.
Calls can be routed to the user's existing landline phone, mobile phone, or to one of Telinta's brandable softphone solutions.  Telinta customers can deliver the power of VoIP calling to virtually any compatible device: analog and IP phones, Android and Apple iOS mobile devices, Windows and Mac desktop/laptop computers, plus WebRTC for VoIP calling via a web browser.
The solution's self-service capabilities and online sign-up mean that ITSPs no longer need installer visits to provide Hosted PBX — opening up their addressable market to not just across town, but across the country and around the world!
Want to learn more?  Contact us today.