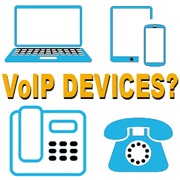 When operating a VoIP service business, you will need to make important decisions about devices you support, and help your end users to understand what devices are compatible with your services.
Is your softswitch limited in the types of end-point devices it can handle?  Can you offer VoIP calling via a variety of softphones for both mobile devices and computers?
These limitations likely mean you are losing opportunities by not supporting the type of devices your customers want to use.  These opportunities come in many forms ranging from lost sign-ups, to missed revenue from device leasing and sales, and less minutes of traffic.  Your users may be more likely to make more calls if you support the preferred device they have handy at the time, whenever and wherever they need.
If your users are required to purchase new specialized hardware to use your service, this may be an obstacle to signing up with you, and moving away from their incumbent provider.
Request Info »
Telinta enables VoIP service providers to support virtually any type of compatible device:  IP phones, analog phones, mobile phones and tablets, Android and Apple iOS, desktop and laptop computers, Windows and Mac.
Our TeliCoreTM softswitch platform is a white label hosted solution that enables you to run a profitable ITSP business.  Our codec-neutral platform supports any standards-compliant VoIP end-point you need.
Our unique Auto-Provisioning Profiles enables you to easily deploy any number of IP devices:
Hundreds of models of IP phones for voice and video calling from popular manufacturers such as Cisco, Poly, Snom, VTech, Grandstream, Fanvil, Yealink, Panasonic, Uniden, and more.
Analog Telephone Adaptors (ATAs) so that your users can keep using their analog devices if they prefer.
Other IP devices attractive to your business customers, such as door units and PA speakers.
Telinta also offers a full portfolio of brandable softphones for mobile devices, desktop computers, and even our unique web-based softphone for calling to/from any WebRTC compatible browser.
Our award-winning Virtual Office solution enables your users to easily route Hosted PBX calls to their existing landline or mobile phones.  With Telinta, you can offer customizable VoIP services they way your users need.
Our highly flexible billing enables you to easily bill for equipment sales or leasing, charge both recurring and non-recurring charges for premium add-ons (like softphones and mobile extensions), and much more.
Want to learn more?  Contact us today.