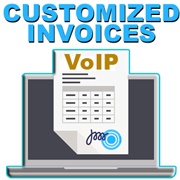 In today's competitive marketplace, being able to customize your invoices can be an important differentiator for your VoIP service provider business.
Invoices are more than just a mere payment vehicle.  They are a reflection of your brand.  When new customers sign up with you for service, they may see your first invoice before they even experience your service quality.  A professional appearance inspires trust and sets you above the rest.
Important questions to ask:
– How can I brand my invoices?
– Can my invoices show my logo?  Tagline?  Corporate colors?
– Can they include a clickable web URL taking customers to my website or payment portal?
– Are my invoices a positive reflection on my brand?
– Can my resellers customize their invoices too?
Request Info »
Telinta offers an easy, flexible solution to customize the invoices your company renders to your VoIP customers.  Our cloud-based TeliCoreTM platform integrates our industry-leading softswitch with highly-customizable real-time billing.
With Telinta, you and your resellers can customize your invoices via a simple drag-and-drop tool that lets you add and position your logo, text, brand name, URL, and more.  In addition to our web-based Invoice Design Tool, you can also build your own invoice template in html to have the look and feel you need.
Since 2002, VoIP providers around the world have used Telinta to automatically render attractive PDF invoices via email to their customers, in any language and currency they need.  This includes popular services such as Hosted PBX, SIP Trunks, WebRTC, Remote Work Solutions, and more.
Not only can you design your own invoices, but with Telinta you are in complete control of your own pricing.  You decide your price per minute, additional fees, recurring and non-recurring charges, and more.  Easily add charges for equipment rental, additional phone numbers, and any premium features you offer.  Create promotions, volume discounts, and monthly subscription plans.  Accept payment via dozens of leading credit card processors, plus our own PayPal plug-in.
Your customers can make payments automatically, or manually via a brandable self-care portal.  If you offer our brandable Mobile Softphone app, your users can even make payments to you directly from the app using their Android or Apple iOS device!
Want to learn more?  Contact us today.