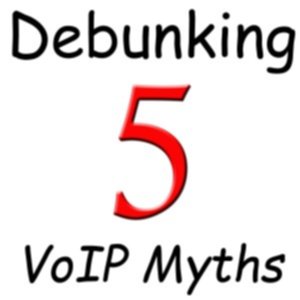 A recent discussion in VoIP News shed some light one five misconceptions about VoIP, helping VoIP service providers easy replies, should new clients ask VoIP questions.
The discussion points out that voice calls are still the most important mode of communication for contemporary businesses.  "Research shows that the phone has a significant lead over any other method of communication for modern customers, with 68 percent of buyers stating it's their preferred way to communicate with businesses."
VoIP Sounds Terrible? Not true.  Research shows that users typically don't even know whether they're using a traditional telephone network or VoIP, and most long-distance calls already travel via VoIP.
VoIP is Hard to Install? If your VoIP installation is difficult, you're approaching it the wrong way. "All you need is an internet connection and the knowledge of how to plug in a phone." Most providers offer pre-configured devices, which means that installation can occur with minimal disruption to your business (especially if those deployments are using Telinta's auto-configuration profiles).
VoIP is Unreliable? To show just how reliable VoIP is, note that 79% of American companies now use VoIP in at least one location.  The numbers speak themselves.
VoIP is a Security Hazard? Voice calling, like any type of "data" can be kept secure by firewalls and encryption and more.  This is especially true for Telinta's highly-reliable highly-secure platform.
VoIP is Just For Huge Companies? "VoIP works for companies of any size. Understanding security, quality and reliability concerns as myths is critical for you to appreciate the many benefits of VoIP."  With Telinta, you can offer VoIP services for any size customer, large or small.