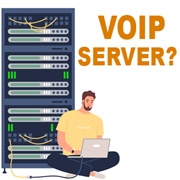 Many VoIP service providers ask "Can I deploy my own server?"
The benefits of a hosted softswitch solution vastly outweigh the benefits of deploying your own server.  VoIP technology, powered by cutting-edge cloud-based solutions, has progressed so that there will be very little (if any) technical benefits to deploying your own server.
But are there circumstances when adding your own local server to the already-hosted solution can bring some benefits?
Some VoIP providers may consider deploying their server for marketing purposes, shaping their sales message to say that they have their own infrastructure in their home city or state.  If their regulators require at least some infrastructure be hosted in-country, this may also be an option to consider in certain parts of the world.
In some cases, to reduce delays and improve voice quality, or to meet requirements for some local VoIP Termination carriers, a local media proxy will help.  But how can you accomplish this?
Request Info »
Since 2002, Telinta has offered a hosted softswitch and billing solution, enabling our customers around the world to run their own ITSP business, without deploying their own hardware or software.  However, for providers who want to deploy their own server, Telinta can help.
We enable you to simply use your own server and broadband connectivity, and Telinta will configure the software you need on that server at no additional charge. Use any datacenter you need, or deploy your own on-premise media server.
With Telinta, you and your resellers can easily offer a full portfolio of brandable VoIP services such as Hosted PBX and SIP Trunks, Desktop and Mobile Softphones, WebRTC, Wholesale VoIP, and more.  We provide you with brandable self-service portals, tools to offer online sign-up, flexible routing to any carriers you need (as many as you need), reporting, and other important capabilities.
Need help?  Telinta offers comprehensive Training to help you get started, with 24×7 Technical Support every day of the year.
Contact us today to learn more.