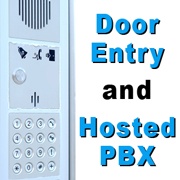 Hosted PBX is a key part of your business customer's operations.  It links their business to their employees, customers, suppliers, partners, and everyone involved.
But Hosted PBX can do more for your business customers than provide voice and video calling.  It can also help provide secure access by controlling Door Entry Units.  Offering innovative value-added services like entry controls can open many doors to new opportunities for your VoIP business!
Most Hosted PBX providers focus on voice alone, regardless of what their users need to run their business.  By offering more capabilities, you can position your business as a step ahead of the competition.
Having an easy way to control Door Entry Units via Hosted PBX enable your business customers to greet visitors in a professional and highly-secure manner.  With a few taps to a touch-tone keypad, visitors can announce themselves and be granted access via your Hosted PBX solution, without a busy receptionist needing to leave their desk – even if they are working from home that day.
But how can you provision Door Entry Units for Hosted PBX?
Request Info »
Telinta enables you to provision any number of IP devices via our unique Auto-Provisioning Profiles.  While it may be the first time that your business has provisioned a specific model device, Telinta may have provisioned that model many times before.  Since 2002, we have developed profiles for hundreds of leading IP devices, used all over the world.
In addition to IP phones, Telinta customers can easily provision Door Entry Units, Paging Speakers, and other IP devices that help your business users to operate efficiently.
Simply use your TeliCoreTM Administrative Interface to build your inventory of IP devices, entering MAC address and other details.  When the device is connected to an IP network at the user's premise, it will reach out to TeliCore and automatically download a complete provisioning profile, without needing manual configuration by an installer.  The same process can be used to upgrade firmware, or add and delete features.
Your users need video capable devices?  No problem!  Telinta's codec-neutral solution supports any standards-compliant video-capable device, using any codec you need.  As long as both end-points share a common codec, they can be used on our platform as part of your Hosted PBX and other VoIP services.
With Telinta, your Hosted PBX and Unified Communications (UCaaS) services can offer much more than voice and video calling, providing your users with state of the art visual and audible alerting, entrance security, loud ring, paging, intercom, and customer assistance capabilities – all with cloud-based automated provisioning.
To help boost your profits, our integrated real-time billing gives you the flexibility to easily add recurring and non-recurring fees to your invoices for the value-added services you provide, or include them in a monthly subscription plan.  Create your own promotions, discounts, and more.  We'll even train you how, and provide 24×7 technical support every day of the year.
Want to learn more?  Contact us today.