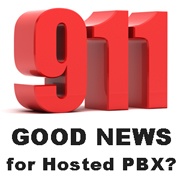 The FCC will soon begin enforcing new mandates signed into law for 911 calls made from multi-line telephone systems (MLTS) such as those in office buildings and hotels.
Known as "Kari's Law" it requires service providers in the US to enable end users to call 911 without needing to dial a prefix for an outside line.  This, and other requirements, take effect on February 16, 2020.
Signed into federal law in 2018, the bill provided a two-year window for the industry to prepare for the change.  It is named for Kari Hunt Dunn, who died while her 9-year old daughter was unable to dial 911 because she didn't know she had to dial "9" for an outside line from their hotel phone.
According to Telecom Reseller, a well-known industry journal, Kari's Law could become "One of many reasons for businesses to consider retiring their aging TDM PBXs…"  The journal cited this as a major factor that will shape the industry in 2020.
This could be good news for service providers offering cutting-edge cloud-based Hosted PBX services that can easily replace outdated legacy on-site PBX hardware which may not be compliant with the new federal law.  Hosted PBX not only offers flexible software-based capabilities to help with your E911 compliance, but it provides impressive VoIP features and cost savings calling that many legacy PBXs cannot match.
These can all be powerful selling points to help you win business customers, both small and large.
Thinking about launching a new Hosted PBX business?  2020 is the perfect time, and Telinta can help you get started with this high-growth opportunity.
Telinta provides a sophisticated white label solution enabling ITSPs and their resellers to offer brandable Hosted PBX and other attractive VoIP services.  Our cloud-based Softswitch and Billing platform is integrated with several industry-leading providers of E911 solutions such as Bandwidth, E911 Enable, Inteliquent, Netstream, Vitelity, VoIP Innovations, and West.
With our unique Auto-Provisioning Profiles, you can easily deploy any number of IP phones without needing manual configuration or costly installer visits.  This includes popular models from Cisco, Fanvil, Grandstream, Panasonic, Polycom, Snom, VTech, Yealink, and more.
We offer comprehensive Training to help you get started, and 24×7 live Technical Support to help you around-the-clock.
Want to learn more?  Contact us today.