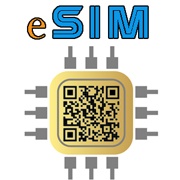 eSIM is a cutting-edge way to use the power of the Cloud to offer brandable MVNO services for global roaming.  eSIM offers significant growth opportunities for both new and existing MVNO providers.
How does eSIM work?
With eSIM, end users no longer need to insert a physical SIM card into their mobile device.  Instead, they simply scan a convenient QR code with their eSIM-capable device to use your MVNO service.
End users can also enjoy "dual SIM" capabilities, where they can continue to use their own local SIM card plus eSIM.  Users can have multiple phone numbers for inbound calls, and select which network to use for outbound calls, data, and SMS.
Whether you prefer to offer physical SIM cards or eSIM, Telinta's unique TeliSIMTM solution enables you to offer MVNO services using your own brand and prices.  Using an entirely new methodology, TeliSIM replaces costly roaming fees charged by mobile operators with cost-effective VoIP.  The end result is a service which is very economical to use and highly profitable to provide.
Like all of our white label solutions, you can use your own providers for VoIP Termination and DIDs.  Using Telinta's cloud-based TeliCore softswitch platform, you can easily add as many DIDs as you need for each TeliSIM user.  This means users can have a local phone number anywhere they travel.
TeliSIM includes free recharge of a prepaid balance, online self-care portals, and more.  You and your resellers can offer voice, data, and SMS, with options for data-only plans.
TeliSIM can be offered as a stand-alone MVNO service or bundled together with our TeliGlobe Mobile Softphone app for Android and Apple iOS.
Want to learn more? Contact us today.