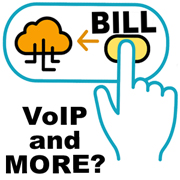 Billing is a vital part of running a business.  Any business.
VoIP service providers know how important billing is.  Is your billing integrated?  Is it real-time?  Is it automated?
But as the lines between different lines of business begin to blur, perhaps the question to ask is "Can my billing handle charges for things besides VoIP?
Many VoIP service providers also offer other products and services such as IT solutions, internet access, data networking, storage, consulting, and more.
But how can you easily bill for both your VoIP and non-VoIP businesses on a single invoice?
Request Info »
Telinta offers a highly-flexible billing solution that is fully-integrated with our hosted softswitch platform.  With real-time call detail records (CDRs) you can offer both prepaid and postpaid VoIP.
Our billing solution is fully automated, so our TeliCoreTM platform automatically calculates your invoices based on your own pricing, and emails them as a customizable PDF to your customers.
Our unique Invoice Design Tool enables you to create invoices with your logo, corporate colors, customizable text – all with drag-and-drop simplicity!
Telinta customers can also easily add any recurring or non-recurring charge for anything you need.  Equipment rental, premium services, subscriptions, and site visits are just a few examples.
If you offer products and services not related to VoIP, you can easily add them to the invoices you generate with TeliCore.  Our platform is integrated with dozens of the world's leading credit card processors; you can even accept PayPal and cash payments.
Why is this important?  If you already run a non-VoIP business, you can easily add telecom to your portfolio of services, as many Telinta customers have successfully done over the years!  If you provide any type of business services, you already have a customer base who might also add Hosted PBX, SIP Trunks, mobile calling from a brandable smartphone app, conferencing, video calling, and more.
Likewise, your VoIP customers may benefit from other products and services you wish to offer, with the ease of a single combined invoice.  With Telinta, you have the power of cloud-based solutions to help your business grow.
Telinta offers 24×7 technical support every day of the year, and comprehensive training to help you get started.
Want to learn more?  Contact us today.