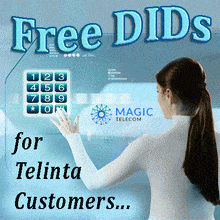 Telinta has built an impressive ecosystem of partners to help our customers find providers of DIDs, VoIP Termination and other services.
Magic Telecom (which was recently added to our list of DIDs partners) has announced a special promotion for Telinta customers.  Magic Telecom has offered Telinta customers up to 10 free DIDs for the USA and UK, with two channels total, from selected locations within Magic Telecom's service areas.
DIDs are an important part of Telinta solutions such as Hosted PBX, Business & Residential VoIP, Calling Card, Mobile VoIP, MVNO, Virtual Phone Numbers and more…
To learn more about DIDs from Magic Telecom, please contact us and we would be happy to introduce you!