Telinta, the owner and operator of the largest PortaSwitch installation in the world, exhibited the full suite of switch partition and billing solutions at ITEXPO East 2012 in Miami Beach, Florida, on February 1-3.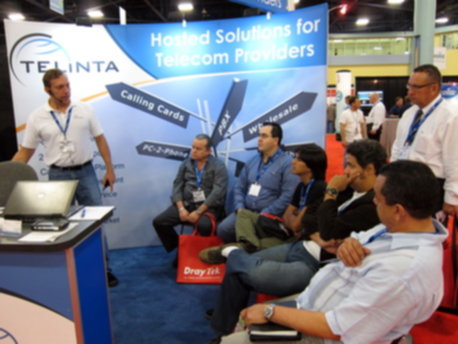 Before the show, TMC CEO Rich Tehrani interviewed Alex Ferdman, the CEO of Telinta, to get his opinion on the most significant technological advancements in the past 12 months.  Read the transcript of the entire conversation.
At ITEXPO 2012, Telinta's live presentations focused on the complete and feature-rich Hosted PBX Solution that makes advanced business technology affordable and available even for Small Businesses.  Highly customizable, Telinta's Hosted PBX Solution offers a virtually unlimited number of extensions, individually pre-recorded greetings and message mailboxes, dial-by-name directories, voice mail to email, personalized music on hold, paging, audio conference bridge, easy to use web-based administration, and many other features.  Telinta's Auto Attendant automatically receives incoming calls, plays a predetermined greeting and transfers callers to proper queues or individual extension.
For more information about the Telinta's Hosted PBX, contact info@telinta.com.