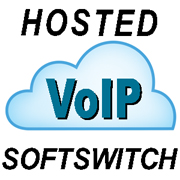 At times we hear from customers who want to install switching and billing software on their own hardware.  While this may sound attractive, there is much more to VoIP than that.
What are the benefits of hosted softswitch?
Owning and operating your own switch is a larger challenge than most customers expect.  It requires selecting the proper hardware and architecting the optimum hardware configuration, plus maintaining it over time.  Not just servers — but routers, firewalls, storage and back-up, and more…  Performance monitoring software, security, integrated real-time billing engines, and internet connectivity  — the list goes on (not to mention redundancy for all of the above).
Once you have selected your hardware, how would you configure it to meet the unique needs for VoIP?  How would you help protect against fraud, hackers, and DNS attacks?  And how would you do these things without downtime?  Since VoIP is a global business, where would you host your internationally deployed proxy servers?
What about APIs to other providers you may need to run a VoIP business, such as DIDs, E911, SMS, taxation and compliance, email transcription and other complementary services?
While the technology you select is important, people are also a vital part of the VoIP equation.  Many companies already have an impressive level of IT expertise, however VoIP switching (and billing) is a very specialized field.  Like neurosurgery compared to general medicine, complex tasks require highly trained specialists with years of experience.  Systems Architects, Maintenance Engineers, Software Developers – and Support Engineers to deal day-to-day with your end users and resellers…
Deploying your own softswitch means managing the constant stream of upgrades, new software releases, and best practices over time.  (Any solution you deploy this year, may require changes next year.)
These are reasons why Telinta offers a hosted softswitch and billing solution for VoIP service providers.  We do all this, so that you don't have to!
For a small predictable monthly fee, you have access to the world's largest softswitch and billing platform of its type.  Our TeliCoreTM platform is hosted in the USA, with additional infrastructure in key international markets across the globe.  Since 2002, we have provided VoIP service providers in many countries with a full portfolio of cloud-based white label solutions.  With Telinta, you and your resellers can offer highly-scalable services under your own brand, and at your own prices.
Use any providers of VoIP Termination and DIDs you need, as many as you need.
We provide comprehensive Training to help your business get started, and 24×7 live Technical Support any time you need.  Our convenient web-based Administrative Portal gives you complete control over your business, and we would be happy to demonstrate it to you!
Our month-to-month contracts mean that you can work with Telinta, without being locked in.
Want to learn more about Telinta's hosted white label solutions?  Contact us today.