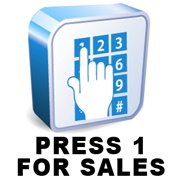 Auto-Attendants, also called a Virtual Receptionist, are an important part of any ITSP's business telephony offer.  Even if your customers are not familiar with the term "Auto-Attendant" they surely are familiar with the ever-popular "press 1 for sales" feature used by so many businesses.
Your business customers need the ability to efficiently route calls to the appropriate team members, while presenting a tech-savvy, professional appearance to their callers.
Auto-Attendants help your VoIP service provider business in two ways:
Auto-Attendants can create increased revenue, both by charging for the additional capability as an add-on.  They can also generate more outbound minutes if calls are routed to external destinations.
Follow the money.  When your customer's customers are happy and well cared-for, your customer will prosper (and so will you).  But if your customer's customers are not happy, can that affect your business too?
Auto-Attendants enable you to help your business users to route calls to the proper department, or to a specific group of employees (such as those who speak a foreign language).  By getting the caller to the correct party, it can prevent multiple call transfers and frustrated customers. If your DID provider charges for inbound minutes (and you do not) there is also a cost savings associated with the pinpoint accuracy that an Auto-Attendant can provide, directing the call to the proper department, avoiding multiple transfers.
How does an Auto-Attendant work?
The caller dials your customer's main number and is greeted by a recorded announcement hosted by your softswitch provider.  Each touchtone menu prompt is then routed to a predefined on-net extension, hunt group of multiple extensions, call queues, recorded information, or even to an external off-net destination on the PSTN which you allow.  Routing Auto-Attendant calls to select destinations on the PSTN can also facilitate an ITSP's ability to meet customer needs for Work-from-Home employees.
For your small business customers, an Auto-Attendant can help them to "look big" by using a calling feature often used by larger companies.
Request Info »
Telinta offers a highly-flexible way for your VoIP business to offer Auto-Attendants as part of your brandable Hosted PBX service, as well as other VoIP services that you can provide via our cloud-based TeliCoreTM platform.
You can easily route calls to any extension, to any compatible end-point, and even to any of Telinta's brandable softphone solutions for mobile and desktop devices.  Let your customer set up and manage their own Auto-Attendant, configure their own PBX extensions, create a Dial-by-Name Directory, and more all via a brandable self-care portal!
Telinta provides pre-recorded prompts in multiple languages, or you can record your own.
In addition to Auto-Attendants, our Hosted PBX solution offers a robust feature set, including Hunt Groups, Call Queues, Auto-Provisioning Profiles, customizable Music-on-Hold, fax to/from email, voicemail-to-email, and APIs to leading voicemail transcription providers such as Google Cloud.
Not sure how to get started?  Telinta provides comprehensive training, and 24×7 technical support, every day of the year.
Want to learn more?  Contact us today.