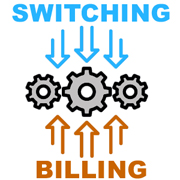 When looking for a Billing solution, what should VoIP service providers look for?
Billing is not just a utility function, but it can also be a competitive advantage.
Switching and Billing are two vital functions within your VoIP business.  The more seamless and integrated they are, the simpler it is to run your business and grow your profits.
Your softswitch creates the events that trigger a billable item, for example when an international call is placed.  The switch determines the call's destination and routes it accordingly, and if the call is completed, the switch measures the length of the call.  The details of this call are then recorded and handed to your Billing system to assign your price for that call.  The user is then billed for that call however you choose, i.e. by decreasing a prepaid balance, or rendering a postpaid invoice which is paid via a credit card on file.
If the hand-off between Switching and Billing is well-integrated, your business runs smoother.
How can you have seamless Switching and Billing?
Request Info »
Telinta offers a fully-integrated Switching and Billing solution for VoIP service providers, and their resellers across the globe.  Since 2002, our TeliCore platform has combined an industry-leading softswitch with highly-flexible Billing.  Your traffic is automatically rated according to your own prices.
With Telinta, you can easily create your own calling plans, subscriptions, volume discounts, promotions, and service bundles.  You and your resellers can bill for both recurring and non-recurring charges, equipment rental, and anything else you wish to add.  Invoices can be automatically generated and sent by email.  Users can automatically be blocked for non-payment.
Our real-time CDRs enables you to offer both prepaid and postpaid services.  Our drag-and-drop invoice design tool means you can create customized invoices with your own logo, brand name, promotional messages, and more.
Need to accept credit and debit card payments?  Telinta is integrated with dozens of payment processors in key global markets.  You can even accept PayPal payments.
How else can our integrated Switching and Billing help your business to grow?  Your users can make payments directly from one of Telinta's brandable softphone solutions for both Apple and Android mobile devices, Windows, Mac and Linux computers, as well as our unique web-based WebRTC solution.  Our brandable self-care portals enable users to view call details in real time, set up payment options, and other account management tasks for a comprehensive self-serve solution.
Telinta's multi-language portals and multi-currency Billing create a powerful combination to help you do business across town, or around the world in as any language and currency you need, as many as you need.
Want to learn more?  Contact us today.