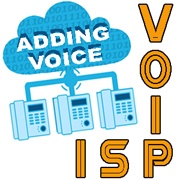 ISPs, WISPs, and other technology providers are all asking the same question:  How can I offer voice services?
Many different types of providers offer internet access, IT services, cloud storage — even copier machines and office equipment leasing.  These providers can easily leverage their existing relationship with customers by also adding voice services to their portfolio.
However, ISPs are extremely well-suited for voice because they already provide the IP connectivity needed for VoIP.  Handling voice over that same IP network is a natural extension.  ISPs already have many of the skills and team members needed for offering voice.  When your customers subscribe to multiple services from you, they are much less likely to leave.
Telinta enables you to offer popular voice services such as Hosted PBX, SIP Trunks, "over the top" (OTT) calling from a brandable Mobile Softphone app for both Android and Apple iOS, Desktop Softphones, WebRTC, Business and Residential VoIP, Audio-Conferencing, and more.  All this, without needing to deploy any infrastructure…
Whether your business is already established, or just starting out, Telinta can help you.  Since 2002, our cloud-based TeliCoreTM Softswitch and Billing platform has enabled our customers (and their resellers) to offer a full portfolio of brandable VoIP services.  Use your own brand, your own carriers, your own prices.  Our real-time Billing means you can offer both prepaid and postpaid VoIP services.
You can easily create bundles and subscriptions, special promotions and volume discounts.  You can bill for both your voice and ISP services together on the same invoice and accept credit/debit card payments and PayPal.
Our unique auto-provisioning capabilities means you can easily deploy any number of phones without needing a truck roll or manual configuration.  Our award-winning Virtual Office solution lets you serve small and home-based businesses, even without IP phones!
We offer comprehensive Training to get you started, and around-the-clock 24×7 Technical Support to help you any time you need.
How can you add voice? Contact us today.