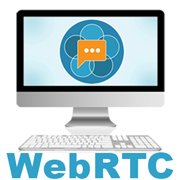 Web Real-Time Communications (WebRTC) is an emerging technology with impressive growth and popularity.
WebRTC enables your VoIP users to make and receive calls via a web-based softphone, without needing to install an application, and without being tethered to devices where that application is installed.
The solution is one of many options for Work-from-Home services offered by successful ITSPs around the world.
With a laptop or desktop computer, microphone and broadband internet connection, your customers can easily use your VoIP services.  Like any web-based solution, users can log in from any compatible device — whether at home or on the road.
But how can you offer WebRTC to your users?
Request Info »
Telinta offers a brandable cloud-based solution that enables you to easily offer WebRTC to your customers.  Your users access the solution via a brandable self-care portal.
The intuitive interface makes it easy for the user to operate.  It offers popular calling features such as attended and unattended call transfers, call waiting, call forwarding, conference calling, music on hold, BLF, and more.  The integrated AddressBook helps manage contacts.
In addition to both inbound and outbound voice calls, Telinta's WebRTC supports SMS, MMS, and free on-net messaging.
The solution comes with an optional menu of additional capabilities that you can add, enabling your users to make payments directly from the softphone, look up your international calling rates, read promotional messages with your logo and a clickable URL, and even invite friends and family to use your service.
Like all of our white label solutions, you can use your own VoIP Termination and Origination providers.  Our real-time billing enables you to offer both prepaid and postpaid calling.
WebRTC joins Telinta's robust portfolio of softphone solutions for Android and iOS mobile devices, as well as Windows and Mac computers.
Whether you offer WebRTC as a stand-alone service, or as part of a complete Remote Work Solution including Hosted PBX and other services, Telinta can help you.  We offer comprehensive training to help you get started, and around-the-clock technical support 24×7, every day of the year.
Want to learn more?  Contact us today.