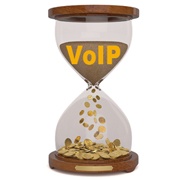 In the business world, time is money.  In the VoIP world, this is especially true.
Telinta often hears the question "How long does it take to start a VoIP business?"  Prospective customers looking to enter the high-profit VoIP marketplace contact us because they want to get up and running quickly, and Telinta has a reputation for success.
Speed to market comes from a variety of factors.  For example, choosing a hosted solution removes the delay caused by selecting, purchasing, and deploying expensive servers, firewalls, routers, load balancers, and other infrastructure.  What about internet connectivity, environmental controls, and fire suppression?
If you need to piece together a separate billing solution for your softswitch, that creates even more delay.
Each month of delay equals lost revenue.  If during that delay your target customers select one of your competitors instead, the loss can be permanent.  Many of your business customers have seasonal volumes that peak at different times in the year.  Tourism may peak in the summer, and retail may peak during year-end gift-giving.  If delay causes you to miss your customer's peak season, it impacts your bottom line.
Request Info »
Telinta offers a hosted solution that gets you up and running quickly.  When you join Telinta as a customer, you'll have access to your own unique Environment on our cloud-based TeliCoreTM platform in only three business days, or less.  You and your resellers can easily configure your own brand, pricing, and other functions via an intuitive Administrative portal, without deploying any hardware or software.
Our white label solutions enable you to provide your own Hosted PBX, SIP Trunks, Mobile calling via a brandable softphone app, WebRTC, prepaid and postpaid VoIP, and much more.  Our comprehensive ecosystem of industry-leading partners enables you to quickly find the products and services a VoIP provider can rely on.
Since 2002, Telinta's fully integrated switching and billing has provided a seamless solution for VoIP service providers around the globe.  We offer training to help you get started, and 24×7 technical support every day of the year.
Want to learn more?  Contact us today.