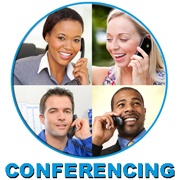 As businesses all over the world look for ways to work remotely, Conferencing services have never been more important.
To offer Conferencing services, you need a cloud-based VoIP platform that offers the features, reliability, and global reach that your customers can rely on.
Important features for an Audio-Conferencing Service:
Your own Brand and Pricing
Moderated and Non-Moderated Conferences
Access Code Generation
Mute/Unmute Capabilities
Customizable, Brandable Portals
Customizable Multi-Language IVR, Option to Record your Own IVR
Both Automated and Manual Conference Recording
Immediate Download of Recordings
Integrated Billing
Use your own DID Providers for Global Dial-in Numbers
Ability to Bundle with other Attractive VoIP Services
Telinta offer a unique Audio-Conferencing solution to help VoIP service providers meet the needs of their demanding business customers.  TeliConTM is a highly flexible, brandable solution enabling you to offer Audio-Conferencing services with virtually an unlimited number of Conference Rooms.
You and your resellers can offer services with your own pricing and your own brand.  Use your own DID providers for both global and local dial-in numbers.
TeliCon is integrated with Telinta's unique Virtual Office solution, enabling your business customers to work from anywhere, even when unexpected circumstances arise.
Offer popular services such as Hosted PBX, SIP Trunking, OTT VoIP calling from a Mobile Softphone app for both Android and Apple iOS, Desktop Softphones for both Windows and Mac, WebRTC for web-based calling, Voicemail, Fax by Email, and more.
Our real-time Billing capabilities enable you to easily create subscription plans, bundles, promotions and volume discounts, and more.  Telinta leads the industry with 24×7 live Technical Support and comprehensive Training to help you get started.
Want to learn more? Contact us today.
Request Info »