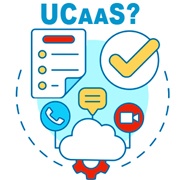 Telinta often hears the question from new customers "How can I offer UCaaS services?"
Service providers are learning that business customers of all sizes are switching away from legacy telecom providers in search of more flexible, more integrated solutions – and thus the phrase "Unified Communications."
Unified Communications as a Service (UCaaS) provides an integrated approach across a wide range of services, which formerly were not tied together into a single cohesive solution.
What services are needed to be a UCaaS provider?
Hosted PBX
As the cornerstone of business communications, Hosted PBX enables your customers to route calls to each employee's or department's extension, greet callers with an auto-attendant, use call queues, and much more.  Today's Hosted PBX supports video-enabled IP devices, as well as voice, and can even unify your business user's door entry units, paging speakers, and intercom.
Mobile and Desktop Softphones
COVID-19 taught telecom providers a valuable lesson in flexible routing, where customers working at their desk today might be working from home tomorrow, and somewhere else the day after.  The ability to serve end users across a variety of hybrid locations and devices is now a way of life.  The challenge here is that as small and medium-sized businesses allow employees to "bring your own device" in the workplace, so service providers now need to handle a wider variety of platforms and operating systems.
Web-based Calling
Known as WebRTC, this web-based "real-time calling" technology enables VoIP communications via the user's browser through a brandable portal, without needing to install software.  This means they can make an receive calls, even if they are away from the computer they normally use for business.  WebRTC is one of the fastest growing segments in IP telephony.
Messaging
Many business problems can be solved with just a few characters and keystrokes.  As a collaboration tool, Messaging adds value to your overall UCaaS offering.  But can you handle not just on-net Messaging between your users, but also off-net Messaging to and from public SMS networks?  Can this be done internationally?  What about MMS?
Fax
Fax is still alive and well, especially in industries handling legal and financial documents.  Fax-to-Email / Email-to-Fax is an important option for your UCaaS offer.  If your customer still needs to maintain a physical fax machine, being able to serve modems using the T.38 codec will be important for quality.  Even if you can support T.38, can your Origination and Termination carriers support it too?
Voicemail
Voicemail is merely a utility function, so how can you differentiate it as a more effective UCaaS tool?  Can you provide automated voicemail transcription?  If so, in how many languages?  Voicemail-to-Email?  Does your voicemail provider charge you per mailbox?  Per message?
Conferencing
While enjoying a brief crescendo during 2020, video conferencing may wane as a fad, easily replaced by free services like Zoom and Skype.  Many users may not like the added stress of "posing" for the camera, or the technical issues around the bandwidth that video conferencing consumes – and many conference calls today are audio-only.  The need for audio-conferencing will likely remain strong in coming years and be a highly-economical option in your UCaaS solution.
Online Sign-Up and Self-Service
The ability for you to win customers expands exponentially if they can serve themselves for many key functions.  Can they open an account with you online?  Can they choose their own phone number?  Toll-free numbers too?  Can they configure extensions, set up call routing by time of day and day of week?  Can they see billing details in real time, and make online payments?
Request Info »
Telinta enables you to provide a wide variety of UCaaS services, using your own brand, your own prices, and your own carriers.  Our flexible billing lets you present a wide range of options to your customers, all packaged as a cohesive customizable solution.  Easily create subscriptions, offer premium add-on services for additional revenue, recurring and non-recurring charges, and more.
Our robust portfolio of solutions includes several options for feature-rich Hosted PBX for any size business. Our award-winning Virtual Office solution enables your users to customize their own PBX services "in the Cloud" via a series of brandable self-serve portals – without needing IP phones!
With Telinta, you can support virtually any type of device with brandable softphones:  Android and Apple iOS mobile devices, Windows, Mac (and even Linux) Desktop and Laptop computers, and a wide variety of popular browsers for WebRTC.  All of our softphones support a variety of Messaging types, with your choice of providers.
Our codec-transparent Class 4 and Class 5 TeliCoreTM Softswitch platform enables you to easily offer voice, video, and fax.  Features like online sign-up, fully-integrated real-time billing, unlimited free voicemail and much more are included in your Service at no additional cost.
We offer comprehensive training to get you started, and 24×7 technical support every day of the year!
Want to learn more about UCaaS?  Contact us today.