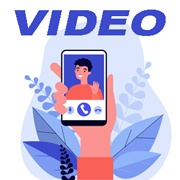 One fast-growing opportunity for VoIP service providers today is video calling.  Now more than ever, this capability can help you win and retain attractive business customers.
Two popular ways to provide video calling:
1.  Mobile Softphone App
Many end users are already comfortable using their smartphone for video calls.  A brandable mobile softphone application that can support both voice and video calling can be a very attractive offer for your VoIP service provider business.
2. Video-Capable IP Phones
Many businesses already deploy IP phones which are capable of both voice and video calling.  Today's market has many good alternatives for video-capable IP phones at a variety of price points to meet your business customers' needs.
With Telinta, VoIP service providers and their resellers can quickly and easily offer video calling.  Our codec-transparent TeliCoreTM softswitch gives you a powerful carrier-grade switching and billing platform, enabling you to offer video calling as well as voice over IP.  Your end users can make video calls via any video-capable IP end-point devices which can negotiate a codec in common with one another.  It's as simple as that!
Telinta's unique Auto-Provisioning Profiles enable you to streamline the provisioning of many popular IP phones, including video-capable models from industry-leading manufacturers.   Since 2002, Telinta's Auto-Provisioning has been used reliably by our customers around the world with IP phones made by Cisco, Fanvil, Gigaset, Grandstream, Panasonic, Polycom, Snom, Uniden, V-Tech, Yealink, and more.  When the device is connected to an IP network at the end user's location — virtually anywhere in the world — it reaches out to our cloud-based platform and automatically downloads a complete provisioning profile, without the need for manual provisioning or installer visits.
Our brandable TeliGlobeTM mobile softphone solution enables you to offer both voice and video calling via any Apple iOS or Android device.  You can even offer free peer-to-peer voice and video calling to your users, to compete with other popular Over the Top (OTT) providers.
Both our TeliGlobe Mobile Softphone and video-capable phones can be used with Telinta's Hosted PBX solution.  Whether your business is already established, or just getting started, Telinta's comprehensive Training and 24×7 Technical Support can help you.
How can your business profit from the fast-growth opportunity for video calling?  
Contact us today.