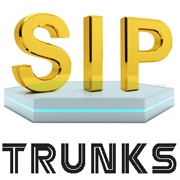 SIP Trunking is one of the fastest growing technologies in the VoIP marketplace, offering a flexible solution for business connectivity to the PSTN.  For your business customers who already own a premise-based PBX, SIP Trunks are a cost-effective way to enjoy the benefits of VoIP.  For your business customers thinking of purchasing a new PBX, most new models are already compatible with SIP out of the box.
With SIP Trunks, your business customers do not need costly ISDN PRIs and T1/E1 Lines.  Via your own providers of VoIP Termination and DIDs, you can offer a virtually unlimited number of voice channels for both inbound and outbound VoIP calling.
Telinta's cloud-based TeliCoreTM platform enables your VoIP business to offer SIP Trunks, without owning any hardware or software.  TeliCore is a turn-key switching and billing solution, interoperable with any standards-compliant PBX equipment.  We have convenient APIs to industry-leading DID providers, helping you to more seamlessly serve your customers.
In addition to SIP Trunking, you can also offer popular services like Hosted PBX as well as our unique Virtual Office solution for small businesses.  With Telinta, you and your resellers can serve the needs of virtually any size business customer!
You can add a mobile extension, IVR and Auto-Attendants, and automatically provision IP phones without manual configuration or installer visits.  You can offer flexible billing capabilities such as a variety of subscription plans, volume discounts, special promotions, and more.  All this, under your own brand…
How can Telinta help you to offer SIP Trunks? Contact us today.