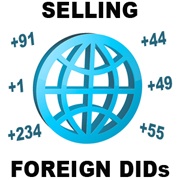 One popular service for VoIP providers is selling services that give your user a phone number from another country.
The user can have a local number in one or more countries, so that callers from those countries do not need to pay international toll charges. Your business users may request phone numbers for multiple countries to offer on the Contact page of their website, creating an easy way to attract international buyers.  Even if the numbers for five different countries all ring at the user's headquarters, local phone numbers helps give their business an international presence.
Individuals often purchase foreign phone numbers, enabling loved ones in their home country to keep in touch – something very popular among your highly-profitable VoIP users like diaspora communities and frequent travelers.  Targeting one or more of these communities is a popular VoIP business strategy.
Remember that phone numbers are only part of the overall solution, since you need the softswitch and billing capabilities to route international calls and charge for them as needed.
Request Info »
Telinta offers the ability for you to sell virtual phone numbers from around the world, using any DID providers you need with our cloud-based TeliCoreTM softswitch and billing platform.  Use your own brand, and your own prices.
With Telinta, you can easily route inbound calls via your DID provider to an IP phone, or to a brandable softphone for mobile devices and desktop computers.  When outbound calls are made, the foreign DID can be shown as Caller ID if your user wishes.
DID Forwarding is a popular service, and you can easily route inbound calls to existing landlines and mobile phones.  You can add capabilities like giving your users a brandable online self-care portal to set their own call routing, for example, to customize call routing based on their business hours.  You can offer multi-language IVR, toll-free service, and other premium capabilities that bring you added revenue.
Telinta offers white label solutions that enable you to give users the ability to select their own international phone numbers from your DID providers' global inventories.  You can even combine the inventories of multiple DID providers you use, and present them to your user as your own expansive inventory of phone numbers from across the country, or around the world.
With Telinta, you make your own pricing decisions for charging your users, such as recurring monthly service fees, non-recurring fees, per-minute charges, volume discounts, promotions, and more.  Our real-time billing enables you to offer both prepaid and postpaid services, in any currency you need.  You can easily accept credit card payments and PayPal too.
You can even sell DIDs and toll-free numbers to other VoIP providers on a wholesale basis.
Want to learn more?  Contact us today.