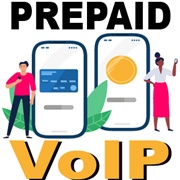 Customers often ask us, "How can I provide prepaid VoIP?"  Prepaid calling is an important part of the VoIP industry.  This attractive service can help you win customers, with reduced risks.
What kind of prepaid VoIP calling can you offer?
Many popular VoIP services can be offered on a prepaid basis.  This includes VoIP calling from a Mobile Softphone application, Calling Card and Pinless, Virtual Phone Numbers, Wholesale VoIP Termination, and other services.  Just about any VoIP service you wish to provide can be offered on a prepaid basis, if you have the switching and billing capabilities to support your needs.
What will you need to provide prepaid VoIP?
Real-time billing is crucial for prepaid services, since you will need to measure usage while the call is in progress to determine when the user's prepaid balance has expired.  Without real-time billing, prepaid services are not feasible.
You will also need the means for your users to easily recharge their prepaid balance.  This could mean accepting payments at a retail location, online, or other methods.
Request Info »
Telinta offers a robust solution for you to offer prepaid VoIP in many countries around the world.  Our highly secure and reliable TeliCoreTM platform enables you and your resellers to offer a full portfolio of both prepaid and postpaid VoIP services, all under your own brand, and with your own prices.
With our real-time billing, you can easily create your own promotions, bundles, volume discounts, and more.  Our multi-language, multi-currency solution is highly flexible.
We offer brandable self-care portals where your users can create and recharge a prepaid balance online via credit and debit cards.  We also offer a unique PayPal plug-in, online sign-up, speed-dial, and other attractive capabilities.
With Telinta, you can offer additional options for recharging a prepaid balance, such as our brandable Distributor Interface for cash payments at retail locations, customizable IVR, vouchers, automatic recharge, and more.  Users can even transfer prepaid credits to other user accounts, so that your customers can promote your VoIP service to their friends and family too.
Whether your VoIP business is just getting started, or already established, Telinta can help you to grow.  We offer comprehensive training and 24×7 technical support.  If you are currently offering services via another platform, we can explain how you can easily migrate your business to our platform.
We offer brandable Mobile Softphones for both Android and Apple iOS, as well as a Desktop Softphone and WebRTC for Windows and Mac computers.
How can you offer prepaid VoIP calling?  Contact us today.