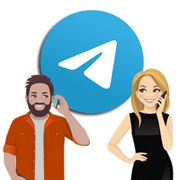 One of the fastest-growing social media platforms in the marketplace is Telegram.  With over 500 million active users worldwide, Telegram can help your VoIP business go viral – if you have the right tools.
Social media makes it easy for your VoIP users to share exciting new things with their contacts.  Economical VoIP calling is an example of something that might be shared with friends.  By definition, social media is "social" – and that makes it an attractive method to help your VoIP business to organically attract new users.
Request Info »
Telinta's cloud-based softswitch and billing platform recently integrated the capabilities you need to offer VoIP calling via Telegram.  Use your own brand, your own prices, and your own carriers for VoIP Termination and DIDs.
Our solution enables you to offer both inbound and outbound VoIP calls to and from the PSTN.  Your users can make and receive calls easily right from their Telegram app using your brandable VoIP service.  Any internet-enabled device that can use the Telegram app can support your VoIP service.  This includes Android, Apple iOS, as well as desktop devices using Windows, Mac, and Linux.
In addition to PSTN calling, you can easily offer on-net peer-to-peer calls between your users, with no per-minute costs to your business.
You and your resellers can offer prepaid or postpaid calling with Telinta's fully-integrated real-time billing.  Easily process credit cards, offer brandable online portals for self-care functions like payments and checking a balance.
Telinta's brandable solution for offering VoIP calling via telegram can be offered as a stand-alone service, or bundled together with any of our many other white label VoIP solutions.
Want to learn more? Contact us today.