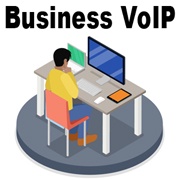 Telinta often hears the question, "How can I sell VoIP services to business customers?"
This part of the industry is growing fast, where business customers are actively searching for flexible, cost-effective VoIP services such as Hosted PBX, SIP Trunks, and more.
These services enable businesses around the world to benefit from added functionality, with greater cost control.  VoIP is also a key factor in businesses toggling between on-premise workers, home-based remote workers, and a hybrid of both that may change over time.
What do you need in order to sell VoIP services to businesses?
Request Info »
Telinta offers a full portfolio of white label VoIP solutions to help you win and retain lucrative business customers.
Hosted PBX:
This enables you to replace legacy PBX equipment and incumbent telcos with a completely cloud-based solution.  Your customers can enjoy attractive PBX features, without deploying any hardware.  They can even configure extensions and perform self-service functions via a brandable self-care portal.
SIP Trunks:
For businesses that prefer to retain their on-premise PBX equipment, you can offer SIP Trunks that provide the cost savings of VoIP calling using any VoIP Termination carriers and DID providers you need.
Mobile VoIP:
For customers on-the-go, you can easily offer a brandable mobile softphone app for both Android and iOS.  You can offer this as a mobile PBX extension, or as a stand-alone Mobile VoIP business.  Your users can download a free brandable app from iTunes and Google Play.  This can be a key component of a Remote Work Solution, together with our brandable Desktop Softphone for both Windows and Mac.
Virtual Office:
This unique solution enables your home-based business customers to tailor their own VoIP service "in the cloud" via a series of brandable self-service portals.  They can configure extensions, set up call routing, auto-attendants, pick their own DID and toll-free number, and more – all without needing an IP Phone!
Business VoIP:
For small single-line businesses, you can easily offer affordable business telephony perfect for retailers, restaurants, service businesses, and others who might not need more sophisticated capabilities beyond Class 5 features such as Call Waiting and Call Forwarding, and voicemail.  With Telinta, you can serve any size business customer – small, medium, and large!
Telinta provides solutions for automated provisioning for hundreds of popular IP phones, ATAs, and other devices.  We offer Call Recording, with up to 30gb of free storage.  Free voicemail, video calling, messaging, fax-to-email, fully-integrated real-time billing, and more.
We provide comprehensive training to help you get started, and 24×7 tech support every day of the year.
Want to learn more?  Contact us today.