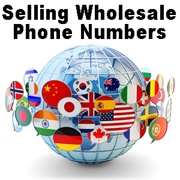 Want to start a business selling wholesale phone numbers?  This growing opportunity for selling phone numbers (also called DIDs) exists all around the world, where VoIP service providers buy phone numbers to resell them to their customers.  Businesses seek local phone numbers in many countries to appeal to their international customer base.  You can provide phone numbers for popular services such as Hosted PBX, SIP Trunks, Mobile Calling, Conferencing Services, Business and Residential VoIP, and more.  Even consumers purchase international phone numbers so that loved ones in other countries can call them more easily.
What do you need to start a Wholesale VoIP DID business?
Switching:
A softswitch is an integral part of any VoIP business as it lets you handle the inbound traffic your DID customers will generate.
Billing: 
You need a solution for billing your DID customers the way you want.  One-time non-recurring charges, usage based charges, monthly fees, per-minute fees are all options you may wish to consider.  Prepaid, postpaid, or both?
Brandable Portals:
Your customers will buy DIDs through your online portals.  These portals are used to search for phone numbers in the cities and countries needed.  They also enable searches for a specific vanity number, area code (ie, 212 for New York), cities and countries.
APIs to DID Providers:
Having access to APIs to your DID providers is key to a successful DID business.  These APIs enable you to show your customers your providers' inventory, without needing to actually purchase the numbers until your customer does.  For example, if you have DID accounts with Bandwidth, DIDWW, and VoIP Innovations – when your customers search for phone numbers, the inventory they see will be the total of all three providers.  APIs enable you to present thousands of phone numbers to your customers, without purchasing numbers in advance.
Training:
Whether you are new to VoIP, or already have an established business, Training is important to learn how to set up your services and pricing just the way you need.  How can you manage your prices?  What configurations will you need to create a secure, reliable environment for your business?
24×7 Technical Support:
When questions arise, who will you contact for help?  If you do business across time zones, having Support 24×7 is important.
Request Info »
Telinta provides you with a white label solution to sell Wholesale DIDs and Toll-Free Numbers.  Our integrated switching and billing enables you to run your business with your brand and your prices, both prepaid and postpaid.  You can easily accept online payments via credit cards and PayPal.  With Telinta, you can do business in any languages or currencies you need.  We lead the industry in comprehensive Training and 24×7 Around-the-Clock Technical Support.
Our cloud-based TeliCoreTM platform includes APIs to many industry-leading DID providers who can provide you with phone numbers across the USA, and around the world.  When you become a Telinta customer, you may qualify for special pricing from our DID partners.
Want to learn more?  Contact us today.