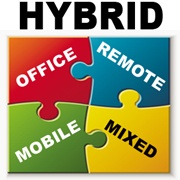 What is a hybrid work environment?  This term describes yet another part of the "new normal" as companies search for the right balance between flexibility, efficiency, and worker safety.
A recent article in Forbes Magazine cited that over 70% of workers want flexible remote work options to continue.  Businesses need the technology to support both on-premise and work-from-home employees.  In addition, some employees work neither at home nor in the office, but on-the-road.  This modern-day mix creates the hybrid work environment.
For VoIP service providers this presents a tremendous opportunity to offer the agility business customers are seeking.  Legacy telcos and providers with more rigid portfolios cannot match the flexibility of VoIP.  Businesses need the ability to route PBX extensions and auto-attendants anywhere needed, and this often includes a hybrid mix of remote, in-office, and road-warrior employees on-the-go.
Request Info »
Telinta offers a robust portfolio of white label solutions to help VoIP providers meet the need for a hybrid work environment.  Our Hosted PBX solution enables you to provision IP phones for use in both the office and remote locations.  If conditions change, the employee can merely take their desk phone home and plug it into a broadband internet connection.
Using the power of Telinta's cloud-based softswitch, Hosted PBX extensions can easily be routed (and re-routed) as needed between the office and any number of remote locations.  Brandable self-care portals enable your users to manage call routing themselves, choosing between their IP phone, landline, cellphone, and softphone.
We offer a complete line of brandable softphones for mobile devices, desktop and laptop computers, Windows and Mac, as well as web-based softphones used via WebRTC compatible browsers.  All of these provide you with options to offer to your Hosted PBX users in the hybrid work environment.
Our solutions offer free unlimited on-net messaging, enabling you to help your customers collaborate as needed.  Video calling is available between any standards-compliant video-capable SIP end points with common codecs.
For your customers who are not ready to move to a Hosted PBX, Telinta enables you to easily offer SIP Trunks for on-premise PBX equipment, using your own DID providers and VoIP Termination carriers.
Want to learn more?  Contact us today.