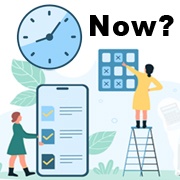 In business, timing is everything.  The right business idea at the wrong time can spell failure.  But getting it right makes success easier than ever!  And that's what we have today with offering VoIP services.
What are some global trends to look for in planning your VoIP business?
International Calling is Growing
International traffic (both personal and professional) grows each year as both families and businesses need to communicate across borders.  Fueled by competition and cost-effective VoIP technologies, the demand for international calling grows even higher as calling becomes more affordable.
Popularity of Portable Devices
Smartphones and tablets allow customers to make calls in a variety of ways. They also facilitate innovative calling solutions based on WiFi, mobile data, SMS, and other technologies that create opportunities for innovative VoIP services.  Even laptops can easily become VoIP endpoints, with the right softphone solution.
Unprecedented Bandwidth Speeds
With broadband becoming more popular and more affordable, many homes and offices already have the connectivity they need to enjoy high-quality VoIP calling.  Mobile broadband is no exception, as wireless operators deploy faster data speeds at faster paces each year.
The Power of "The Cloud"
Hosted "cloud-based" switching and billing solutions mean that even start-up ITSPs can offer a full portfolio of VoIP services without owning their own infrastructure.  You can access cutting-edge switching and billing for Hosted PBX, Unified Communications (UCaaS), Mobile VoIP, WebRTC, SIP Trunking, Remote Work Solutions, and more — without deploying any special hardware or software.
Users Look for Savings
VoIP growth can persist, even in times of economic stress, since more and more users look for the cost savings and flexibility that VoIP provides.  As more users switch away from high-cost incumbent carriers, VoIP providers grow!
Request Info »
Telinta can help you take advantage of all these business trends. Starting your own profitable ITSP business is easily within your grasp.
With Telinta, you can use any of the world's providers for international VoIP Termination and DIDs – any provider you need, as many as you need.  Easily do business in any language or currency.
You can offer Mobile VoIP calling via our brandable softphone solutions for both Android and Apple iOS, as well as WebRTC and Desktop Softphones for Windows, Mac, and Linux computers.  Telinta enables you to support calling to/from any compatible device.
Our MVNO solution for global roaming, plus our Mobile Top-Up solution gives Telinta customers unprecedented opportunities to profit from mobile users.
Telinta's cloud-based TeliCoreTM softswitch and billing platform provides you with hosted white label solutions, so you do not need to deploy your own infrastructure.  Your own TeliCore environment can be available in as little as three days!
Our real-time billing gives you complete control over your pricing, offering a valuable competitive advantage.  Create your own prices, promotions, subscription plans, volume discounts, and more.  With Telinta, you set your own prices for every call, as well as each recurring and non-recurring charge.
Whether your business is already up and running, or just starting out, Telinta provides you with the tools and expertise to help you grow.  We offer comprehensive training and 24x7x365 technical support.
Want to learn more?  Contact us today.