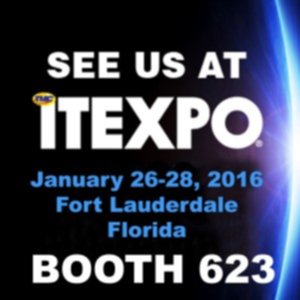 Telinta will participate at the upcoming ITEXPO to be held in in Fort Lauderdale, Florida on January 26-28, 2016.  ITEXPO is an industry-leading event where over 6,000 Internet Telephony professionals from around the world gather together.
Each year, Telinta exhibits at ITEXPO, meeting with our customers, partners and friends.  The event is an excellent opportunity to meet face-to-face, answer questions, discuss industry trends, and explain how our cloud-based softswitch platform can help VoIP service providers to grow their business.
In the Exhibit Hall, Telinta will conduct live demonstrations of our TeliCoreTM platform.  We will also demonstrate our award-winning TeliSIMTM MVNO solution.  TeliSIM uses an entirely new methodology, replacing expensive mobile termination from GSM providers with cost-effective VoIP.   TeliSIM won ITEXPO's "Best in Show" Award, recognizing this unique MVNO solution's innovative approach, profitability and cutting-edge technology.
Visit Telinta at Booth 623 to learn more.  If you cannot attend the show, check Telinta's News Room for important announcements we will make at ITEXPO.