Prestigious industry award recognizes Telinta's leadership and innovation.
Telinta's "Virtual Office" was honored as Best Cloud Solution.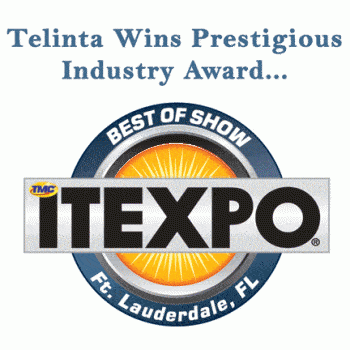 Fort Lauderdale, Florida (February 1, 2016) – Telinta, a leading provider of cloud-based Switching and Billing solutions for telecom service providers, today announced that it was awarded ITEXPO's "Best of Show" Award in recognition of its outstanding contributions advancing the field of IP Communications.
Chosen as ITEXPO's Best Cloud Solution, Telinta's unique Virtual Office enables VoIP service providers to better serve small business customers.  With Virtual Office, end users can customize their own VoIP solution in the cloud via Telinta's self-serve web portals.  Without the need for IP phones or ATAs, calls can be received on regular landline phones, mobile phones or any other device the customer prefers.
End users can choose from a variety of self-service functions like selecting DIDs, adding extensions, setting up voice mail, configuring an auto-attendant, personalizing IVR, call forwarding and more.  This solution is perfect for meeting the unique needs of small business customers, while streamlining the VoIP service provider's provisioning processes.  Virtual Office is a standard part of Telinta's portfolio of cloud-based solutions for VoIP service providers.
"We are proud to have been recognized by ITEXPO for this prestigious award," said Alex Ferdman, Telinta's CEO.  "Since 2002, Telinta has delivered a steady stream of innovation to our customers, and Virtual Office demonstrates our commitment to the ever-changing needs of the marketplace."
In 2015, Telinta won "Best of Show" for its TeliSIMTM MVNO solution for travelers. TeliSIM uses an entirely new methodology where costly GSM termination for global roaming is replaced by cost-effective VoIP.
Held in Fort Lauderdale, Florida, ITEXPO brought together over 6,000 Internet Telephony professionals from around the world.
About Telinta
Founded in 2002, Telinta, Inc. offers secure and reliable cloud-based Switching and Billing solutions for VoIP service providers around the globe. Telinta's full portfolio of white label carrier-grade solutions is highly customizable for VoIP service providers and their resellers.  This includes Calling Card, Pinless, Hosted PBX, Mobile Solutions, Call Centers, Audio-Conferencing, Business and Residential VoIP, Wholesale VoIP and other solutions.  Please visit us at www.telinta.com for more information.
Media Contact:
Anthony Stiso
Vice President of Marketing and Sales
Telinta, Inc.
anthony@telinta.com
tel: +1 305.993.1199