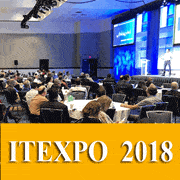 ITEXPO is one of the VoIP industry's leading events specializing in Internet Telephony, with over 6,000 telecom executives, business owners and entrepreneurs gathering together.  This year, the event was held in Fort Lauderdale, Florida, with Telinta recognized as a leader in cloud-based switching and billing solutions for VoIP service providers.
Telinta was invited to lead a panel discussion with two of our partners, Inteliquent and Acrobits.  This one-hour session, entitled "Cutting Edge Cloud-based Solutions for VoIP Service Providers" focused on important challenges in the VoIP marketplace.  The session was held as an educational resource which ITEXPO offered only to its premium attendees as part of their paid admission.
In the main Exhibit Hall, Telinta demonstrated our TeliCoreTM hosted softswitch platform.  This enabled ITEXPO attendees to learn more about our hosted white label solutions for popular services such as Hosted PBX, SIP Trunking, Mobile solutions, Calling Card, and more.
Three important Telinta announcements were selected by ITEXPO to share with attendees via the online news resources published each day of the show.  These included:
Telinta was also invited to participate in a panel discussion related to its unique billing capabilities enabling customers to offer services via per-minute pricing or via monthly subscriptions, volume discounts and bundles.  Telinta is recognized as an industry leader not only for our world-class switching, but for our fully integrated highly-flexible billing capabilities as well.
Helping the ITEXPO community keep tabs on key industry trends, Telinta also participated in a video interview conducted by the show staff.
Contact us today to learn more.