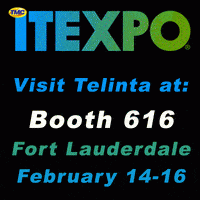 Telinta will exhibit at ITEXPO again this year, to be held February 14-16 in Fort Lauderdale, Florida.  Launched 18 years ago, ITEXPO has been a premier VoIP industry event where thousands of professionals from VoIP service providers, executives, entrepreneurs and new business owners, developers, and others all gather to learn in conference sessions and conduct business on the Exhibit Hall floor.
Telinta was invited to lead a panel discussion entitled Cutting-Edge Cloud Solutions for your VoIP Business.  This discussion will cover key trends and capabilities in cloud-based solutions for VoIP service providers. Topics include challenges that a successful VoIP business needs to address such as switching, billing, customer management, mobile solutions, VoIP Origination and Termination, provisioning and more. Whether your business is already well-established, or just starting out, this session will provide you with new insights.  Speakers will include executives from Telinta, as well as our partners Inteliquent and Acrobits.  Other ITEXPO sessions will also include speakers from IBM, Juniper, Windstream, VoIP Innovations, Vonage, Comcast and other leading companies.
On the main Exhibit Hall floor, Telinta will provide live demonstrations of our award-winning TeliCoreTM softswitch platform.  At two previous ITEXPO events, TeliCore received the prestigious "Best of Show" award for its unique white label Switching and Billing solutions for VoIP service providers and their resellers.
Please visit us at ITEXPO in Booth 616 for more information.
Contact us today to learn more.