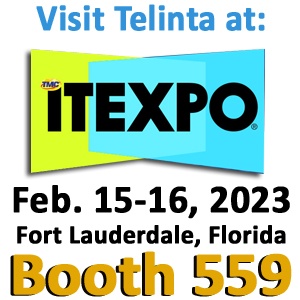 As an industry leader in switching and billing solutions for VoIP providers, Telinta has often been invited to participate in VoIP industry events over the years.
ITEXPO is one of the industry's most prestigious event dedicated to Internet Telephony.  Telinta was again invited to participate in ITEXPO 2023, one of the world's foremost Internet Telephony industry events, to be held February 15-16, 2023 in Fort Lauderdale, Florida.
In the main Exhibition Hall of the show, Telinta will demonstrate its TeliCoreTM hosted softswitch platform.  This prestigious event will be attended by thousands of telecom executives, entrepreneurs, and VoIP business owners from around the world.
At two previous ITEXPO events, Telinta was awarded "Best of Show" for its unique white label VoIP solutions for service providers.
"ITEXPO has been an excellent forum for Telinta to meet face-to-face with our customers, partners and friends," commented Alex Ferdman, Telinta's CEO.  "ITSPs looking to expand their VoIP business, or entrepreneurs looking to launch a new VoIP business, often approach Telinta at ITEXPO to learn more about our hosted solutions."
Request Info »
Telinta offers a full portfolio of white label cloud-based solutions that enable customers to provide Hosted PBX, SIP Trunks, UCaaS, VoIP calling via a brandable Mobile Softphone app for Android and Apple iOS, Remote Work and Hybrid Work solutions, and other popular services.  Telinta's TeliCore platform is the largest of its type anywhere in the world, and has served VoIP providers around the world since 2002, offering integrated switching, billing, and more. Telinta provides comprehensive training and 24×7 technical support every day of the year.
"ITEXPO is the communications and digital transformation event where influential buyers gather to make their purchase decisions," said Rich Tehrani, CEO of TMC, the host of ITEXPO.  "Meet Telinta at ITEXPO to learn more about the company's strategy for serving your VoIP business.".
Visit Telinta at ITEXPO Booth 559 at the Broward County Convention Center or contact us to learn more.
About Telinta:
Founded in 2002, Telinta, Inc. offers secure and reliable cloud-based Switching and Billing solutions for VoIP service providers around the globe. Telinta's full portfolio of white label carrier-grade solutions is highly customizable for VoIP service providers and their resellers.  This includes Hosted PBX, SIP Trunking, Mobile Solutions, Unified Communications, Calling Card and Pinless, Business and Residential VoIP, Wholesale VoIP, and other hosted solutions.  Please visit us at www.telinta.com for more information.
#  #  #
Media Contact:
Anthony Stiso
Vice President of Marketing and Sales
+1 973-467-3364 (menu option 1)