The company received significant recognition for its Hosted PBX solution for VoIP service providers. 
Telinta led a panel discussion on cutting-edge technology for mobile challenges.
February 14, 2017

Springfield, NJ  (February 14, 2017) Telinta was again invited to participate in ITEXPO, one of the world's foremost Internet Telephony industry events, held last week in Fort Lauderdale, Florida.
In the main Exhibition Hall of the show, Telinta demonstrated its TeliCoreTM hosted softswitch platform, as well as its TeliSIMTM MVNO solution for global roaming.  This prestigious event was attended by nearly 7,000 telecom executives, entrepreneurs and business owners from around the world.
Telinta's Hosted PBX solution for VoIP service providers attracted significant attention, with over a dozen new features announced at the show.  Steve Anderson, a journalist covering the show, quoted Telinta's CEO Alex Ferdman in his report.  "Hosted PBX is a major priority at Telinta. We understand that ITSPs and their resellers rely on innovative new features which help them to better compete and win in the marketplace," said Ferdman.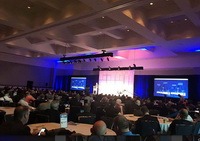 ITEXPO also invited Telinta to lead a panel discussion entitled "Using Cutting-Edge Technology to Solve Mobile Challenges."  Led by Telinta's Vice President of Marketing and Sales, Anthony Stiso, the panel included executives from Telinta's partners Onvoy and Acrobits, and other participants.  ITEXPO's panel discussions cover a wide range of topics, with speakers from leading firms like Avaya, IBM, HP, Oracle, Voxbone, VMware and others.
"ITEXPO is a great opportunity for Telinta to meet face-to-face with our customers, partners and friends," Ferdman added.  "Telinta's team members from several parts of the USA devoted three solid days to meet with VoIP service providers from around the world to discuss how we can help their businesses to grow."
About Telinta:
Founded in 2002, Telinta, Inc. offers secure and reliable cloud-based Switching and Billing solutions for VoIP service providers around the globe. Telinta's full portfolio of white label carrier-grade solutions is highly customizable for VoIP service providers and their resellers.  This includes Calling Card, Pinless, Hosted PBX, Mobile Solutions, Audio-Conferencing, Business and Residential VoIP, Wholesale VoIP and other hosted solutions.  Please visit us at www.telinta.com for more information.
Media Contact:
Anthony Stiso
Vice President of Marketing and Sales
+1 305.993.1199
anthony@telinta.com