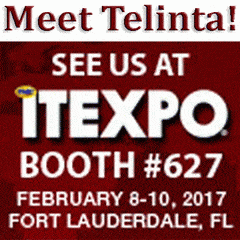 Each year, Telinta participates in ITEXPO, one of the VoIP industry's premier events.  In the main exhibit hall, Telinta will demonstrate our TeliCore softswitch platform, showing VoIP service providers how they can benefit from our cloud-based switching and billing solutions, answering questions about the VoIP industry, and more.
Telinta will also demonstrate our award-winning TeliSIM MVNO solution, which enables our customers to offer highly-profitable global roaming services to travelers.
Recognized once more for our leadership in the industry, Telinta has also been invited to lead a panel session focused on helping service providers to overcome challenges in the mobile services marketplace.  The panel will also include executives from Onvoy and Acrobits.
Attended by thousands of VoIP professionals from all over the world, ITEXPO is an excellent opportunity for Telinta to meet with our customers, partners and friends.
Interested in meeting with Telinta?  Please contact us for more info.