Telinta was again invited to participate at the International Telecoms Week (ITW) 2013, one of the world's most prestigious telecom events.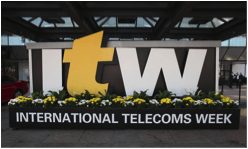 Held May 13 – 15 in Chicago, ITW drew nearly 6,000 people representing telecommunications companies from around the world.  This year's event was the largest ITW to date.  ITW participants had a special treat, with former Vice President Al Gore as this year's Opening Keynote Speaker.  "The consumption and availability of technology is beginning to change the way people think and behave," said Gore.  And no one knows this better than the VoIP community at ITW!

"We were honored to exhibit at such a prestigious forum," said Telinta's CEO Alex Ferdman.  "ITW is an excellent opportunity to talk with customers face to face, hear their needs, explain industry trends, and help them in any way that we can."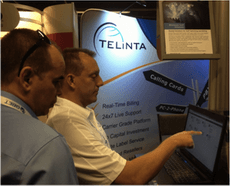 How was this year's ITW different?
"This year we noticed that Wholesale VoIP providers were especially interested in ways to analyze key performance metrics and profitability.  The pace that our customers need to compete is getting faster each day, so having real-time data at your fingertips is vital, now more than ever."
To meet the need for faster analysis of key metrics, Telinta announced new capabilities for its CallMonTM real-time analysis tool.  "We discussed CallMon with many Wholesale providers at ITW, as well as other ways Telinta can help them grow a profitable, high-quality VoIP business," added Ferdman.
Telinta made headlines at ITW — not once, but twice!   "We announced TeliShieldTM, Telinta's new anti-fraud deterrent," said Anthony Stiso, Telinta's Vice President of Marketing and Sales.  "We also launched a joint announcement together with snom, detailing Telinta's unique auto-provisioning profiles for one of the world's leading IP phone manufacturers."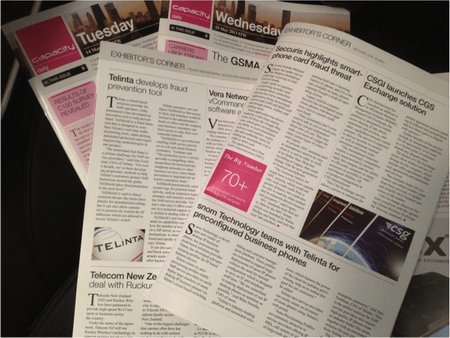 Telinta will next participate in IT EXPO West, to be held in Las Vegas, August 26-29.  "We have something very special planned for the upcoming IT EXPO," commented Ferdman.  "Stay tuned for more big news from Telinta."