Telinta participates in ITW 2015, one of the world's most prestigious telecom industry events, demonstrating its cloud-based softswitch platform and MVNO solution.
ITW recognizes Telinta for its leadership and partner alliances.
Chicago, IL  (May 26, 2015) Telinta was again invited to participate at this year's International Telecoms Week (ITW).  Over 6,000 executives, entrepreneurs and business owners from telecom companies in 150 countries gathered in Chicago for ITW 2015, one of the world's most prestigious industry events.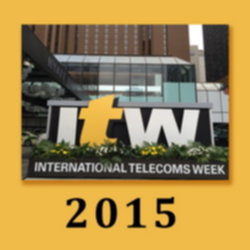 In ITW's main exhibit hall, Telinta demonstrated its cloud-based TeliCoreTM softswitch platform.  This Class 4 and Class 5 carrier-grade platform integrates Telinta's cutting-edge white label VolP solutions with world-class Switching and Billing capabilities from PortaSwitch.  Telinta also demonstrated its award-winning TeliSIMTM MVNO solution.  TeliSIM uses an entirely new methodology  which replaces costly GSM termination from mobile operators with cost-effective VoIP.   Recent TeliSIM enhancements were announced at the show.
Telinta was recognized by ITW for its industry leadership and partner alliances.  Details about two of Telinta's partnerships (Panasonic and Fanvil, both leading providers of IP phones) were published as educational and informative resources by ITW, describing how Telinta's cloud-based platform can automate the provisioning of IP phones.
At ITW, Telinta announced an extension of its partnership with Voxbone and deployment of an upgraded API, enabling VoIP service providers to easily provision Voxbone DIDs via Telinta's platform.  Telinta partners with leading providers of telecom products and services, helping its customers to grow their businesses.
In addition, Telinta announced enhancements to TeliShield, its suite of cutting-edge cloud-based tools engineered to help VoIP service providers prevent fraud.
"ITW is an excellent forum for our customers and partners around the globe to meet Telinta's team face to face and learn how we can help them win in the marketplace," said Telinta's CEO Alex Ferdman.  "This year's ITW was one of the best ever."