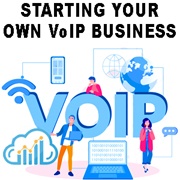 If you are thinking about starting your own VoIP business, you probably have lots of questions:
How can I start a VoIP business? 
How do I sell VoIP services? 
How can I become an ITSP?
Where can I learn about VoIP?
Voice over Internet Protocol (VoIP) has revolutionized telecom all over the world.  VoIP greatly simplifies the telecom business, and removes many barriers to entry, making it easier for anyone to start their own VoIP business.
Using the power of cloud-based solutions, you do not need special technical skills.  Instead, you can create relationships with providers who offer everything you need, without having your own hardware or software.
Switching:
A softswitch is the heart of your VoIP business.  It is the tool where your services take shape, where you receive your inbound traffic, and where you route your outbound traffic.  A softswitch is what lets you provide capabilities like Hosted PBX extensions, SIP Trunks, auto-attendants, Calling Card and Pinless, mobile services, voicemail, and more.
Billing:
You need a flexible billing system with the ability to set your own prices, create subscription plans, per-minute charges, volume discounts, and promotions.  If you offer prepaid services, you will need "real-time" billing.  Whether your services are prepaid or postpaid, you will need convenient payment options for your customers and resellers such as accepting credit/debit cards and PayPal.
VoIP Termination:
Your outbound traffic is carried to the PSTN via your VoIP Termination carriers.  You can use carriers that specialize in specific countries or regions, or "A-Z" carriers which handle traffic to destinations all over the world.  Many VoIP businesses use multiple providers to enjoy added redundancy and least-cost routing (LCR).
DID Phone Numbers:
To handle inbound calls from the PSTN, you will need a DID provider who offers phone numbers in the countries you need.  DIDs are often called "origination" services.  Both your VoIP Origination and your VoIP Termination providers are easily configured within your Softswitch to handle traffic how you need.
Brandable Portals:
Many VoIP businesses provide brandable portals to their users.  This enables them to offer capabilities such as online sign-up, online payments, choosing their own phone number, configuring extensions, and self-service account functions.  For web-based VoIP services – called WebRTC – your customers can both make and receive VoIP calls online directly from a compatible browser.
Request Info »
Telinta offers a cloud-based Softswitch and Billing platform that enables you to quickly and easily start your own VoIP business.  Our hosted solution enables you to offer a full portfolio of VoIP services, without having your own infrastructure or technical staff.
Telinta provides comprehensive training to help you get started, plus 24×7 technical support every day of the year.  Telinta customers also have access to our online KnowledgeBase with important details and best practices for VoIP service providers.  We offer technical documentation, white papers, and nearly two decades of experience in helping customers start successful VoIP businesses around the world.
Our TeliCoreTM platform enables you to use any VoIP Termination and DID providers you need, as many as you need.  If you do not have providers, we would be happy to introduce you to our industry-leading partners.
Whether you want to offer services to businesses, consumers, or resellers – Telinta can help you.
Want to learn more?  Contact us today.