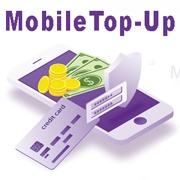 Mobile Top-Up is an attractive business in many parts of the world, especially if your business model is to sell through resellers.
How does Mobile Top-Up work?
A Top-Up provider has contracts with mobile operators all over the world to process payments for prepaid cellular.  The Top-Up provider then sells this service to its customers (other smaller Top-Up service providers) who enable consumers to purchase prepaid airtime credits.
These credits can be applied to the user's own phone, or more commonly the credit is sent to family members in other countries.
Request Info »
Telinta offers a brandable Mobile Top-Up solution that enables you to support an unlimited number of resellers.  Both you and your resellers can use our brandable, multi-language multi-currency portals.
You can sell Top-Up services to retailers who process cash transactions via our unique Distributor Interface.  You can also sell services online directly to consumers.
Telinta's award-winning TeliCoreTM platform enables you to offer services via our Mobile Top-Up partners, reaching over 500 mobile operators worldwide.  You can offer services via Ding, DT One, and Prepay Nation.  You can even vary commissions you pay by country and by operator!
Telinta's Mobile Top-Up solution can be offered as a stand-alone services, or combined with other white label solutions, such as our brandable Mobile Softphone app, which enables your users to make and receive calls "over the top" via their Android and Apple iOS devices.
We offer comprehensive training to get you started, and 24×7 technical support every day of the year.
Want to learn more?  Contact us today.