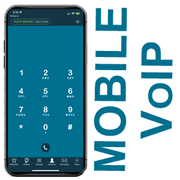 Mobile VoIP is one of the fastest growing segments of the global telecom marketplace.  As both businesses and consumers seek mobile solutions to meet everyday needs, the opportunity for VoIP service providers has never been better.
Your Internet Telephony Service Provider (ITSP) business needs a range of options for your users to open an account, and begin using your services.  The key to success is enabling new users to sign up in the manner which they prefer.
Some users may prefer online sign-up using a browser.  Other users may prefer to download your Mobile Softphone application, and establish an account with you directly from the app itself.
Request Info »
Telinta offers a brandable solution enabling service provides to easy offer both prepaid and postpaid Mobile VoIP, either as a standalone service, or as a complement to Hosted PBX, SIP Trunks, Unified Communications (UCaaS), Remote Work/Hybrid Work solutions, and other popular uses of VoIP.
Our TeliGlobe Brandable is a Mobile Softphone solution, which you can easily customize with your own logo, brand name, promotional text, clickable web URL, and more.
TeliGlobe Brandable now comes with the option for you to allow users to sign up for services directly from the application, in addition to our existing online sign-up capabilities.
Your users can download the free app from both Google Play and Apple iTunes, enter their email and a one-time password which you supply, and easily open their account with you directly from the app.
You can even offer a small predefined amount of free test calling to destinations which you select, as a way for prospective new users to try your services and experience your quality.
TeliGlobeTM offers a full range of popular features, including both voice and video calling, SMS/MMS and free on-net messaging, free peer-to-peer on-net calling, call recording, address book integration, call forwarding, three-way calling, and more.
TeliGlobe is part of Telinta's family of brandable softphones for Android and iOS, Windows, Mac, and Linux computers, and web-based WebRTC calling from a unique end user portal.
Our brandable softphones includes a menu of additional capabilities, with options for users to make payments to you directly from the softphone, show your rates, and even enable your users invite friends to sign up for your service.
Want to give TeliGlobe a try?  Contact us today.