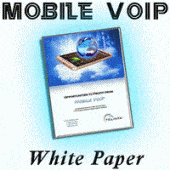 As part of its growing library of free white papers for VoIP service providers, Telinta recently launched a new publication entitled "Opportunities to Profit from Mobile VoIP."
This publication is an excellent resource for you and your resellers to get started with profitable Mobile VoIP services, taking advantage of the growing trend for mobility.  Mobile VoIP can easily be offered as a stand-alone service, or integrated into any of Telinta's other cloud-based VoIP solutions.
The high-growth Mobile VoIP market offers several attractive opportunities for you to profit.  Whether your business is just getting started, or is already well-established, your customers will be attracted to the convenience and flexibility of Mobile VoIP.
The paper explains, "With Mobile VoIP, your customers can use a convenient smartphone app to make and receiving calls via the PSTN, as well as 'On-Net' calls made between your users, similar to peer-to-peer services like Skype, Viber and others."
TeliGlobeTM is our unique, brandable mobile softphone application for both iOS and Android devices.  Your users can download the app for free from Apple's iTunes App Store and Google Play.  The app looks and functions very similar to the familiar screens your customers use today for cellular calling.  Because of this, TeliGlobe will be easy and intuitive for them to use.
Please visit Telinta's online white paper library for VoIP service providers to check for frequent updates.