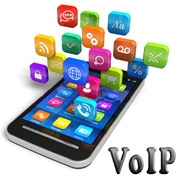 Need your own smartphone app to offer Mobile VoIP to your customers?
Mobile VoIP is a fast-growing opportunity, whether you are adding mobile calling to your existing VoIP business, or starting something completely new.
Both consumers and businesses are increasingly more dependent on their smartphones and more accustomed to  "Over the Top" (OTT) VoIP calling.  Your customers can make economical VoIP calls using your services whenever and wherever they have a mobile data connection or WiFi.
When planning your Mobile VoIP business, what do you need to know?
Can you serve users regardless of whether they own an Android or Apple device, or both?
Can you brand your services and use your own logo in online customer portals?
Can you set your own prices?  Subscriptions, bundles and promos?  Credit cards?  PayPal?
Can you use your own VoIP Termination carriers and DID providers?
Can you offer both voice and video calling, voicemail, call recording, and Class 5 features?
Telinta offers a brandable, flexible solution enabling you to offer both prepaid and postpaid Mobile VoIP via your own smartphone app.  With our unique TeliGlobeTM solution, you and your resellers can provide mobile OTT calling services and more — without owning any hardware or software!
Your users merely download a free app from Apple iTunes and GooglePlay.  The app automatically configures itself via credentials or a convenient QR code which you can easily generate from our cloud-based softswitch platform.  You can offer Mobile VoIP as a standalone business, or integrated as a mobile option for your Hosted PBX or other popular VoIP services.
Telinta offers comprehensive training to get you started, plus 24/7 live technical support, every day of the year.  We even let you try TeliGlobe for free.
Want to learn more?  Contact us today.