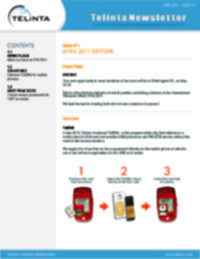 This April, Telinta launched a newsletter delivered by email to all Telinta customers.  The goal of the newsletter is to keep Telinta customers informed on the latest company news, discuss new profitable solutions, and provide tips on best practices.
The first edition of the newsletter highlighted TeliSIM – one of Telinta's most sought-after solutions.  The newsletter also provided advice on creating secure passwords for VoIP accounts and a reminder that interested telecom operators can meet the Telinta team at ITW on May 23-25 in Washington, DC.
"We are very excited to introduce the Telinta Newsletter – a new way to connect with our loyal customers," said Alex Ferdman, CEO of Telinta, Inc.
Telinta newsletter actively solicits customer feedback in order to provide the most valuable and relevant information.  Early customer feedback has been very positive, and included some suggestions that will be incorporated into the next edition of the newsletter.